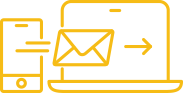 SERVICES
Marketing Automation
Email Marketing
Despite the ever-changing landscape of privacy requirements and SPAM filters, email marketing remains the undisputed king of the marketing world returning a 4,000% average ROI. Consequently, it's imperative that companies desiring to grow have a cohesive and effective email marketing strategy.
At Truth, we stay on top of the latest trends and best practices when it comes to email marketing tactics and can help guide your team's content delivery and messaging strategies so that it delivers maximum results and engagement.
Lead Capture
Growing your audience sounds great, but what if you have no audience? Or what if you are a startup and have just a small list of emails? Or maybe you are a larger company and have a list, but would like to see that list grow and your reach expand.
Regardless of your situation, we can help you craft lead capture strategies that convert and generate rapid list growth. From the initial concept to landing page builds and content delivery, our team has the expertise needed to build out complete campaigns that will help you reach your goals.
Sender Reputation Management
Email marketing is a powerful tool. But if your content isn't reaching your audience's inbox then it doesn't matter how great the content is. You could be losing untold revenue potential due to poor sender reputation.
Email sender reputation is a score that an Internet Service Provider (ISP) assigns to an organization that sends email. It's a crucial component of your email deliverability. The higher the score, the more likely an ISP will deliver emails to the inboxes of recipients on their network. If the score falls below a certain threshold, the ISP may send messages to recipients' spam folders or even reject them outright.
At Truth, we understand what factors go into maintaining an excellent sender reputation. Our team can help guide you in the best practices for email sending and also ensure that your list stays clean and pristine so your content reaches the eyes of your audience and doesn't end up in the SPAM folder.
Automated Sales Process and Task Management
Running a business takes work. Every sale you make involves dozens of steps from checkout to fulfillment. However, keeping an eye on all of this to ensure you are delivering your services with excellence can be time-consuming and very tedious work.
Our team can help you simplify your processes and systems through automation. We have the expertise needed to build out complex robotic systems that will handle most (if not all) of your sales processes automatically without the need for repetitive and manual task delegation.
Reporting and Optimization
Data is extremely valuable and critical to maximizing the profitability of your marketing and sales operations. But, data can be overwhelming and, if not filtered properly, can lead to incorrect assumptions and conclusions.
At Truth, we understand data and analytics and can make sense of the numbers so your organization has a clear picture of what's working, what's not, and what can be done better to increase ROI and revenues.
Latest technologies

Effective marketing automation is all about leveraging technology effectively. We can help guide you on the best tools and tech needed to accomplish your amazing goals.

Streamlined processes

Our team are expert in creating processes and systems that leave you confidently in control of your marketing operations without sacrificing simplicity and excellence.

Well written content

No matter what your business or industry, our content writers can help you craft the right message you need to deliver your message and a clear call to action.

Agile Teams

At Truth, we recognize that in an ever-changing landscape of technology it is critical to work with individuals who can adapt and implement quickly. We stay on top of all the latest trends and tech so you can have confidence in our ability to shift focus and energies to adapt to your ever-evolving needs and goals.
RESEARCH

Before we get started on your marketing automation plan, we research the current marketplace, your competitors, and ongoing digital marketing trends so we can recommend a strategy and direction that will help you attract new prospects, increase conversions, and make good on your fulfillment promises faster.

PLAN

Once we have a clear path for your project, our marketing automation team will create a written comprehensive strategy and plan for the overall structure of your marketing and sales funnel.

IMPLEMENT

After we get your approval, our experts will get to work building and implementing your marketing automation plan so you can launch fast and with ease.

OPTIMIZE

The final step in this process is where we dig into the data and work with you to fine-tune your funnel strategies making sure everything works flawlessly, is converting at the best rates, and 100% meets your expectations.
Are you a startup?

Some companies avoid working with startup ventures because there is a lot of uncertainty. However, at Truth Design & Development, startups are some of our favorite clients because we know what it's like to have big dreams and a desire to transform the world with new awesome ideas.

Let our experienced team work with you to create a digital brand and presence that effectively communicates your amazing vision and connects you with your intended audience customers

Are you a well known business?

The most successful companies and brands know that in order to stay ahead of the competition, they must always be thinking of fresh ways to connect with their customers and fans. In a fast-paced, ever-changing digital world this can be a considerable challenge.

At Truth Design & Development we make it an everyday practice to keep up with the latest digital design and marketing trends so we can provide the type of expert advice your organization needs to maintain its place as a leader in your industry.