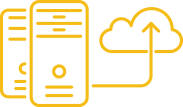 SERVICES
Managed Hosting
Dedicated Servers
Our dedicated servers will give your site the power to run quickly, reliably, and without interruption allowing you to impress your visitors with a fast and reliable experience that's unmatched.
Monitoring and Updates
Unlike many of our competitors, our hosting packages are all-inclusive meaning that we take care of all the maintenance, monitoring, and updates for your site keeping things running at optimal performance levels.
Wordpress Hosting
Our Wordpress hosting packages make it easy to run your site or blog eliminating the need to update core files, install software updates or save your site data. Our U.S. based support team does all of that for you and is always available to help you when needed.