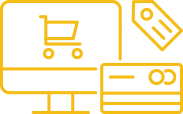 SERVICES
E-commerce
Custom Themes
In a highly saturated online marketplace, it is critical that e-commerce sites offer their visitors a seamless experience that stands out from their competitors. With so many cookie cutter online stores in existence, having a custom look can provide the edge you need to grab your prospect's attention.
Our custom-built online storefronts are clean, responsive, engaging, and secure providing a superior customer experience that converts prospects and drives sales.
SEO Friendly
Having a beautiful online storefront does not help you much unless people can find it. With the ever-changing algorithms of major search engines like Google and Bing, it's difficult for the online business owner to stay ahead of the SEO curve.
Our team specializes in SEO optimized sites and storefronts and makes it a top priority to stay on top of current web trends and changes in SEO requirements. Our custom-built stores are liquid fast, content-rich, analytics enabled, and come loaded with key SEO friendly features that ensure you will get indexed by top search engines.
Reliable Hosting
At Truth, we make it a top priority to ensure our client's e-commerce sites are always up and running efficiently. This is why we only utilize high-performance servers that offer the latest server technologies and unparalleled speed and reliability.
Payments
Our custom-built stores integrate with all the leading payment processors including Stripe, Authorize, PayPal, Amazon, and more. Consequently, you'll never have to worry again about losing out on a customer who's ready and willing to purchase your products.
Security
Your security and your customer's security are a top priority with Truth Web Design. Rest assured that our stores are all Level-1 PCI and GDPR compliant offering all the latest and most advanced security features such as layered security, SSL encryption, protection against DDoS targets, and frequent auditing.
Latest technologies

Effective marketing automation is all about leveraging technology effectively. We can help guide you on the best tools and tech needed to accomplish your amazing goals.

Streamlined processes

Our team are expert in creating processes and systems that leave you confidently in control of your marketing operations without sacrificing simplicity and excellence.

Well written content

No matter what your business or industry, our content writers can help you craft the right message you need to deliver your message and a clear call to action.

Agile Teams

At Truth, we recognize that in an ever-changing landscape of technology it is critical to work with individuals who can adapt and implement quickly. We stay on top of all the latest trends and tech so you can have confidence in our ability to shift focus and energies to adapt to your ever-evolving needs and goals.
RESEARCH

Before we get started on your store, we research the current marketplace, your competitors, and ongoing web trends so we can recommend a strategy, design, and direction that will help distinguish your site and brand as a leader in its industry.

SKETCH

Once we have a clear path for your project, our design team will create a "visual script" of the overall design for your store including graphics, layout, color, and text placement.

CREATE

After we get approval on our designs, our coders will get to work building and creating your e-commerce site taking your approved mockups from concept to reality.

REFINE

The final step in this process is where we work with you to fine-tune the live version of your online store making sure it works flawlessly and 100% meets your expectations.
Are you a startup?

Some companies avoid working with startup ventures because there is a lot of uncertainty. However, at Truth Design & Development, startups are some of our favorite clients because we know what it's like to have big dreams and a desire to transform the world with new awesome ideas.

Let our experienced team work with you to create a digital brand and presence that effectively communicates your amazing vision and connects you with your intended audience customers

Are you a well known business?

The most successful companies and brands know that in order to stay ahead of the competition, they must always be thinking of fresh ways to connect with their customers and fans. In a fast-paced, ever-changing digital world this can be a considerable challenge.

At Truth Design & Development we make it an everyday practice to keep up with the latest digital design and marketing trends so we can provide the type of expert advice your organization needs to maintain its place as a leader in your industry.