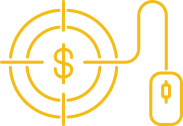 SERVICES
Digital Marketing
Paid Search
In an overcrowded digital world attracting the right type of traffic to your site can be a challenge. Competition and constant changes in search engine algorithms make it harder and harder to reach new customers through organic search methods.
Through paid search, or pay-per-click (PPC) advertising, we can help ensure your site shows up at the top of the most popular search engine results pages (SERP) by tailoring your PPC ads to appear only when specific search terms are entered, creating highly relevant ads that are targeted to your specific audience.
Content Marketing
"Content is king," or so the expression goes.
Great content is the key to modern SEO, will help you get noticed on social media channels, and provides value to your customers and prospects through emails and other forms of communication.
Our writers have the experience and creativity needed to generate amazing content that will serve as the high octane fuel needed to drive your digital marketing machine. Beyond just clever promotional snippets, we can help you educate and inspire your audience so that they will see you as a valuable source of information and not just another company looking to make a buck.
Visual Remarketing
If you ever look at your analytics reports it only takes a few minutes to realize that the majority of people visiting your site leave pretty quickly. It's not your fault. It's just the fickle nature of online traffic.
However, those people who come and go are not lost to you forever!
Through strategic remarketing campaigns, our team can ensure the delivery of highly personalized visual ads on other sites and media platforms to those people who have already visited your website or landing page but have not converted yet.
Latest technologies

Effective digital marketing requires a keen understanding of, and ability to leverage, a variety of technologies. We can help guide you on the best tools and tech needed to accomplish your amazing goals.

Mobile Minded Designs

Whether designing for native in-app, banners, or simply your website, we can ensure that your brand's digital presence is fully optimized for mobile users so your campaigns and following ROI is optimal.

Valuable content

No matter what your business or industry, our writers can help you craft the right content you need to deliver your unique message, offer extreme value, and elicit a clear call to action.

Data Driven Strategies

We make it a consistent practice to analyze data from past performance to ensure that your targeting and digital marketing campaigns are optimized for maximum ROI.
RESEARCH

Before we get started on your digital marketing plan, we research the current marketplace, your competitors, your target audience, and ongoing digital marketing trends so we can recommend a strategy and direction that will help you attract new prospects and increase conversions.

PLAN

Once we have a clear path for your project, our marketing team will create a written comprehensive strategy and plan for your marketing and sales funnel.

IMPLEMENT

After we get your approval, our experts will get to work implementing your marketing campaigns segmenting and targeting your audiences to achieve maximum ROI.

OPTIMIZE

The final step in this process is where we dig into the data and work with you to fine-tune your funnel strategies making sure everything works flawlessly, is converting at the best rates, and 100% meets your expectations.
Are you a startup?

Some companies avoid working with startup ventures because there is a lot of uncertainty. However, at Truth Design & Development, startups are some of our favorite clients because we know what it's like to have big dreams and a desire to transform the world with new awesome ideas.

Let our experienced team work with you to create a digital brand and presence that effectively communicates your amazing vision and connects you with your intended audience customers

Are you a well known business?

The most successful companies and brands know that in order to stay ahead of the competition, they must always be thinking of fresh ways to connect with their customers and fans. In a fast-paced, ever-changing digital world this can be a considerable challenge.

At Truth Design & Development we make it an everyday practice to keep up with the latest digital design and marketing trends so we can provide the type of expert advice your organization needs to maintain its place as a leader in your industry.