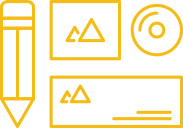 SERVICES
Branding
Brand Strategy & Story
Building a brand is more than just selecting colors, imagery, and a catchy tagline. It is a process that goes beyond the functionality one's products and services, creating a unique identity that communicates an organization's value and voice connecting them with the unmet needs and wants of their audience.
We can help you create a quality brand that not only identifies you but tells your story in a compelling manner. Everything you do and every choice you make, from the copy you write to the colors you select, is part of your brand story and impacts what people believe about you and how they will engage with your organization.
Brand Launch
A new brand has to make a splash in the market if it's going to be successful and stand out from the crowd. We can help you develop a strategy for your brand's launch that will get your company in front of as many eyes as possible, specifically those eyes that belong to your target audience ensuring you make a powerful first impression and gain new loyal customers quickly.
Logos & Iconography
Before our designing team gets to work, we will gain an in-depth understanding of your brand personality, target market, and business objectives. Once in sync with your brand and purpose, we will start a proven creative process developing the symbols and iconography needed to effectively communicate your organization's voice. The result is exceptional work that will thrill clients and elevate your brand's trajectory.
Stunning Logos

We create eye-catching and beautiful logos that demand attention and evoke a powerful emotional response.

Modern Look

Let our team ensure you stand out from the crowd with a branding identity that's clean, modern, and 100% you. 

A Story that Connects

Our team will help you create a brand that accurately represents your organization's vision and communicates a powerful story.

Uniquely You

Our custom branding packages are 100% unique and tailored specifically to your organization's needs and messaging.
RESEARCH

Before we get started on your project, we research the current marketplace, your competitors, and your target audience so we can recommend a strategy and direction that will help distinguish your brand as a leader in its industry.

SKETCH

Once we have a clear path for your project, our design team will create a "visual script" of the overall design for your brand including graphics, colors, and messaging elements.

CREATE

After we get approval on our designs, our team will get to work creating your branding package taking your approved mockups from concept to reality.

REFINE

The final step in this process is where we work with you to fine-tune the live version of your project making sure it accurately communicates your organization's voice and 100% meets your expectations.